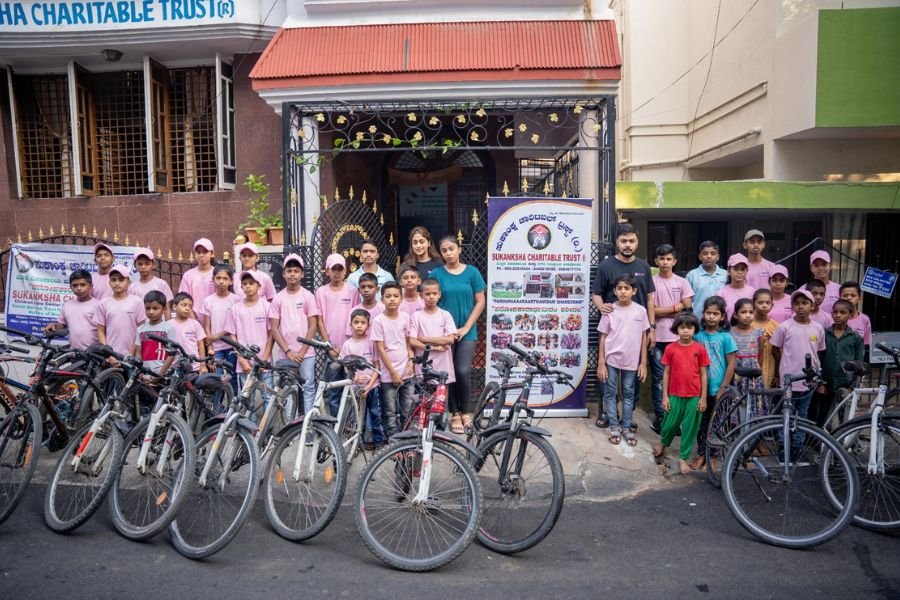 ●     The event took place in Basaveshwara Nagar in partnership with Sukanksha Charitable Trust.
●     The main aim of the event was to instil the love of cycling, inspire kids to embrace an active lifestyle and create an inclusive environment for all children.
Bangalore (Karnataka) [India], June 7: World Bicycle Day holds great significance as it highlights the importance of cycling as a sustainable and accessible mode of transportation, promoting health, fitness, and well-being.
In line with this spirit, the leading Ed-Tech brand BYJU'S organised a thrilling bicycle ride adventure for kids, aiming to instil a love for cycling at a young age and encourage them to adopt an active lifestyle. This event was a part of the most successful BYJU'S Education For All initiative that aims to empower 10 million children by 2025 with education.
The brand provided rented cycles to the children to ensure every child could experience the joy and freedom of cycling, regardless of their access to personal bicycles. This inclusive and empowering event allowed all children to enjoy the benefits of this wonderful activity.
This event was organised in Basaveshwara Nagar from 7 am to 8 am in collaboration with Sukanksha Charitable Trust, an esteemed NGO. They provided the bikes and took the children on a captivating 2-3 km ride, accompanied by experienced cyclists and enthusiastic volunteers. Safety precautions were paramount, with helmets and other protective gear provided to ensure the well-being of the young riders.
The primary aim of this event was to encourage physical activity and create a memorable experience for the children. Cycling is not only a fun and enjoyable activity but also offers numerous health benefits. It helps build strength, improve cardiovascular fitness, and enhance coordination and balance. By introducing children to the joy of cycling early on, we hope to establish a foundation for a healthy and active lifestyle that they can carry with them throughout their lives.
During the event, the kids had the opportunity to explore the neighbourhood on their bicycles, enjoying the fresh air and the thrill of pedalling. The ride was followed by a delightful breakfast at Sukanksha Charitable Trust, where the children and volunteers had the chance to bond and share their experiences. The trust played a crucial role in organising the event and provided a warm and welcoming atmosphere for everyone involved.
The success of this event was a result of the collaborative efforts between BYJU'S and Sukanksha Charitable Trust, along with the dedication of our passionate volunteers. As we celebrate World Bicycle Day, let us continue to promote the values of health, fitness, and well-being and encourage more people, especially children, to experience the thrill of cycling. Together, we can create a healthier, happier, and more sustainable future.
Sharing their thoughts on the event, Anushree, Marketing Associate At BYJU'S, firmly believes in the transformative power of cycling. It not only benefits the physical well-being of individuals but also fosters a sense of community and environmental consciousness.
Sharing their thoughts on the event, Keerthy, Assistant Manager, By organising events like this bicycle ride adventure, we strive to inspire people of all ages to embrace cycling as a sustainable and enjoyable mode of transportation.
If you have any objection to this press release content, kindly contact pr.error.rectification[at]gmail.com to notify us. We will respond and rectify the situation in the next 24 hours.